De-identification of patients' protected health information (PHI) from medical free-text
Thursday Nov 26 2020 17:00 GMT
Please to join the live chat.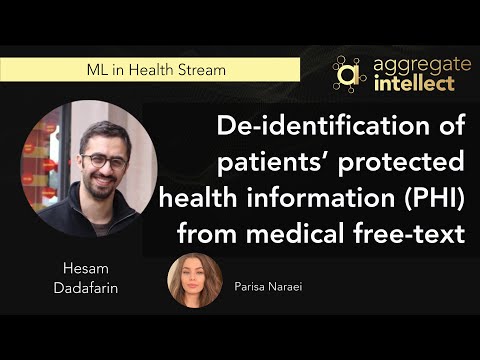 Why This Is Interesting
Massive amount of invaluable medical information is buried inside hospitals' and physicians' electronic medical records in the format of free-text. Examples include physician's notes when you see your family doctor or the lab results when you do your blood work. Neither healthcare organizations nor governmental agencies who store and maintain these unstructured libraries of information can share them with researchers due to regulations around patients' privacy. In this talk, Hesam is going to present a recent collaboration to leverage natural language processing algorithms to minimize the risk of re-identification for patients' information. This solution is going to create many opportunities for healthcare researchers to conduct further studies on unstructured health information of patients.
Discussion Points
What free-text medical data look like
Common challenges to de-identify or mask patients' information
Traditional de-identification methods and why they are not effective
How machine learning and natural language processing algorithms can be leveraged to surpass manual de-identification accuracy
Time of Recording: Thursday Nov 26 2020 17:00 GMT